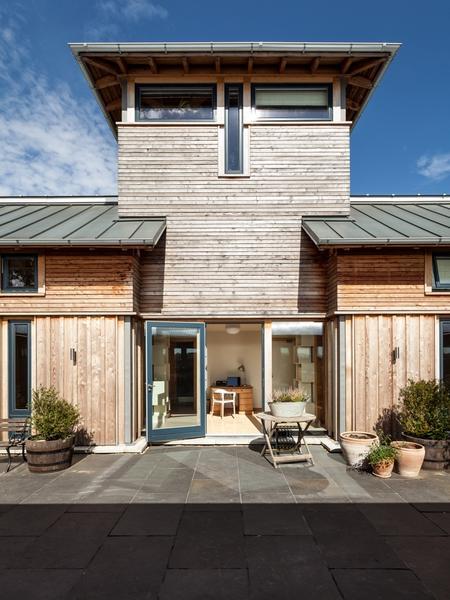 Allies Farm
Photo by James Gray
Allies Farm in Essex incorporates a former WW2 airfield with many of the original buildings remaining on the site. The farmer and his family wanted a new home among these buildings and with the Architect, Cameron Scott, used them as inspiration.
Photo by James Gray
Architect: Cameron Scott 01626 85 44 05 www.timberdesign.com
Builders: Andy Nott, David Jones & Russell Lane
Timber Frame: Don Rigby & Rob Williams - Carpenter Oak Ltd. www.carpenteroak.com
Photos by Simon Maxwell www.simoncmaxwell.com & Cameron Scott
Photo by Simon Maxwell
The house is constructed with a home grown softwood frame that is based on the oak framing tradition. This has produced a building that is modern in feel while borrowing from the older methods and fitting in with its surroundings. It is not surprising that it won an award for the Best Timber Frame Home 2012 and Best Interiors 2012 categories in the Daily Telegraph Homebuilding & Renovating Awards.
Cameron Scott's frame drawing
This Practice checked, sized and designed the members and joints of the frames with the wind bracing, foundations etc in close collaboration with Cameron Scott.